The Santa Ana River Watershed
Connecting Mount Baldy To Huntington Beach
The Chino Basin communities are nestled in the northwest section of the Santa Ana River Watershed. A watershed is an area of land that is connected by the water that flows over it. When rain falls and snow melts, water flows into a network of creeks, then into rivers, and then out to the ocean. Our watershed flows from the tops of our local mountains, including Mount Baldy and Cucamonga Peak, all the way to Big Bear. Water runs downstream to the Santa Ana River, which flows from the San Bernardino wilderness through the Prado Wetlands and Prado Dam in Chino, through Orange County, and meets the Pacific Ocean at Huntington Beach. All our actions—whether we litter, pick up our pets' waste, or fertilize with care—affect our watershed's health.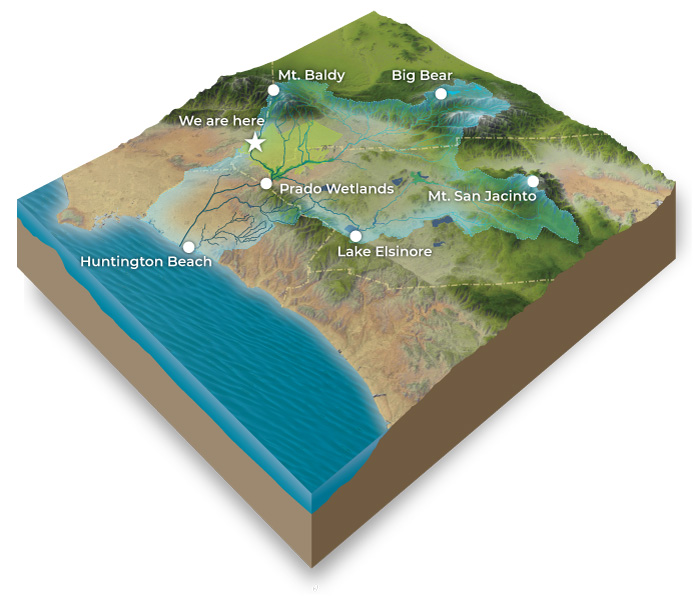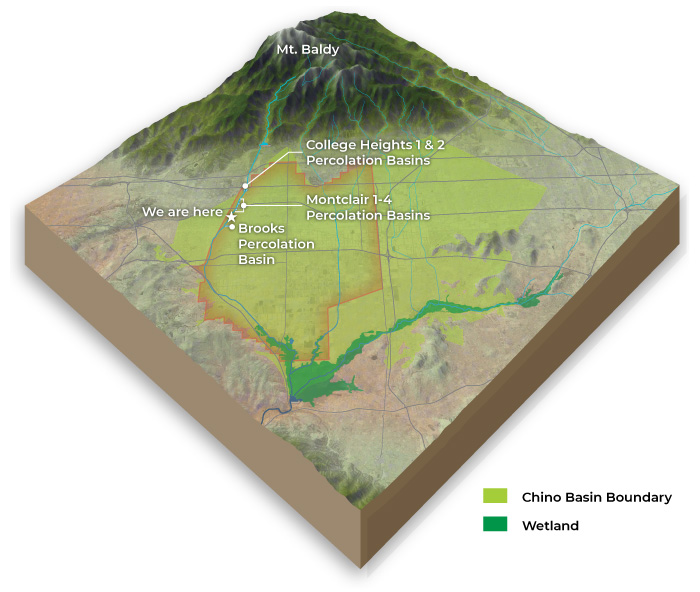 The Chino Groundwater Basin
Storing Our Region's Freshwater Supply
The southwestern cities of San Bernadino County, including Ontario, Montclair, Chino, Chino Hills, Upland, and Rancho Cucamonga, were built on top of the Chino Groundwater Basin. Like a giant bathtub, this underground basin can store vast amounts of water. The basin consists of loose gravel, soil, and sand that absorb and hold water from local rain and snowmelt. The basin's sides and bottom are formed of hard bedrock that stops the water from moving deeper into the earth. This natural water supply, which originally drew dairy, citrus, and grape farmers to the region, is now actively managed by local water agencies.
The Chino Groundwater Basin supplies about half of our community's water and acts as an underground reservoir, storing water collected in wet years to use during dry years and times of drought.
How We Capture And Store Water
Sustaining A Regional Water Supply
To protect the Chino Groundwater Basin and help ensure wells don't go dry, we channel rain and snowmelt from Mount Baldy and runoff from local streets into a network of recharge basins, which are also called percolation basins. These basins look like empty gravel mines or giant holes in the ground. They are located in areas where the soil is very gravelly, or "porous," and thus water sinks into the ground very quickly. The District's recharge basins were built along the San Antonio Creek and West Cucamonga Creek.
Hover the "+" on the diagram to learn more about our water capturing process.
Learn more about Our Percolation Basins