Why you should consider waterwise and California native landscapes and where to start.
Waterwise gardens can look beautiful and bloom nearly year-round in Southern California while using only about a third of the water a traditional green lawn needs. After all, if you're not actively using them, lawns are kind of boring. On the other hand, waterwise gardens are beautiful, dynamic, and much more interesting spaces to spend time in. Kids and dogs love all the rich textures, smells, and wildlife found in native gardens!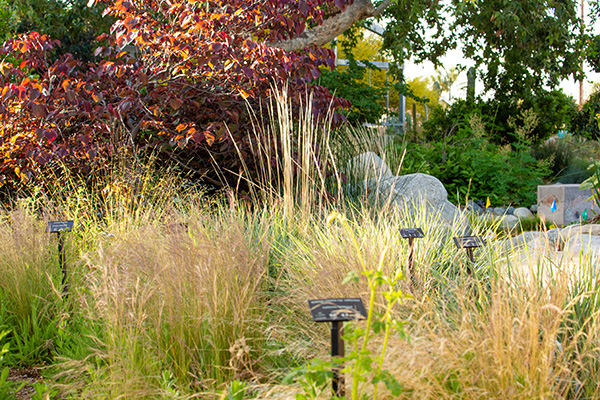 Conserve Water Support Wildlife
If you decide to work with California native plants—which we consider the ultimate way to go waterwise—you'll not only use much less water, but you'll also provide critically needed food and homes for native birds, butterflies, and pollinators, which need our help and are a pleasure to see visiting our yards!
Waterwise Gardening Resources
In working with local community members over the years, we've found that going waterwise can sometimes feel overwhelming. It may seem like there's so much to learn, from removing lawns to selecting plants to figuring out watering options and ongoing care. If you're considering taking on a large landscaping project, we recommend spending some time educating yourself about waterwise or California native plants and gardens. Although it may seem like there's a lot to learn, we've made it as easy as possible by compiling our top tips and links to additional resources.
You can do this, and we are here to help!
Chino Basin Water Conservation District Website (you are here!)
3 Steps To Get You Started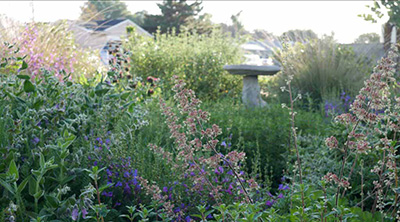 Sign up for our 2.5-hour free introduction workshop, "Introduction to Landscape Renovation for Waterwise Home Gardens", online or in person. This course provides the most important information for planning a waterwise or California native landscape renovation.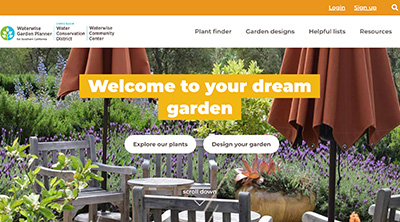 Explore the "Waterwise Landscaping" section of this site and follow the links to our "Waterwise Garden Planner" resource, created just for Southern California community members like you. There, you can learn about which plants are best for your yard, get garden design inspiration, and find out how to keep your plants happy and healthy.
Plan a visit to our Demonstration Garden at the Waterwise Community Center in Montclair, where you can see many options for waterwise and California native gardens in person and learn much more. We look forward to seeing you here!
Hiring A Landscape Professional
Hiring the right people for your garden or landscape project is critically important for its long-term health and to protect your financial investment. From removing the old lawn so it doesn't regrow, to proper planting, to installing a well-designed irrigation system that will allow the plantings to thrive both when they're new and as they grow in, there is quite a bit to "get right" for the best results.
As with hiring a contractor for any other type of project, you will want to get quotes from multiple people and ask the right questions. We created our downloadable "Top Tips for Hiring a Landscape Contractor" pdf document to assist you with the most important things to consider when selecting a contractor for your project.
Design Your Own Waterwise Garden