Why Consider Adding A Meadow To Your Landscape?
Meadows provide small lush areas within waterwise gardens to relax and enjoy picnics in—and they're dog friendly. They are a perfect way to provide a lower-water spot of green within a larger low-water landscape.
Most garden meadows look best with a single tough and reliable species selected as the primary repeated plant in the meadow, creating a cohesive look and simplifying maintenance. We have tried many options at the Waterwise Community Center's Demonstration Garden. Our favorites are clustered field sedge, California meadow sedge, blue grama grass, and buffalo grass, depending on the desired look and foot traffic the area will receive.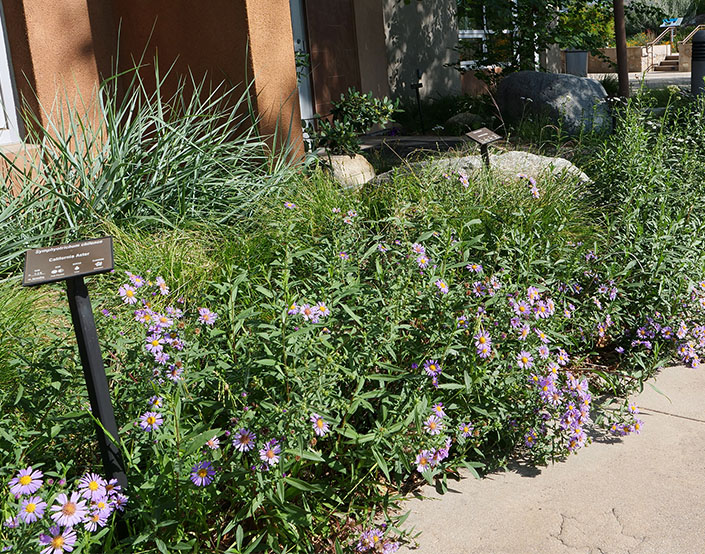 You can add occasional accents of flowering plants or attractive bunch grasses interspersed throughout the meadow's main area. Our favorite addition in small meadows is blue-eyed grass. In larger meadows, we will often mix in yarrow, hummingbird sage, California fescue, foothill sedge, alkali sacaton, deergrass, or coyote mint.
Most native meadow plantings are cut back only once or twice per year, depending on your preference. You can use either a string trimmer (weed wacker) or, for very small meadows, a manual hedge shear (which looks like big scissors). The meadow area can be cut back all at once, or you can trim around accent plants and cut those back on a separate schedule.
Some meadow options, including clustered field sedge, California meadow sedge, yarrow, and deergrass, can tolerate occasional flooding, making them a good choice for areas that get inundated after rains or receive overflow from a dry streambed or infiltration basin. These areas can sometimes be dug down to create a sheltered sunken meadow that functions as a water-capturing element in the landscape. The dug-out soil can be used to create mounds or raised beds in other parts of the landscape.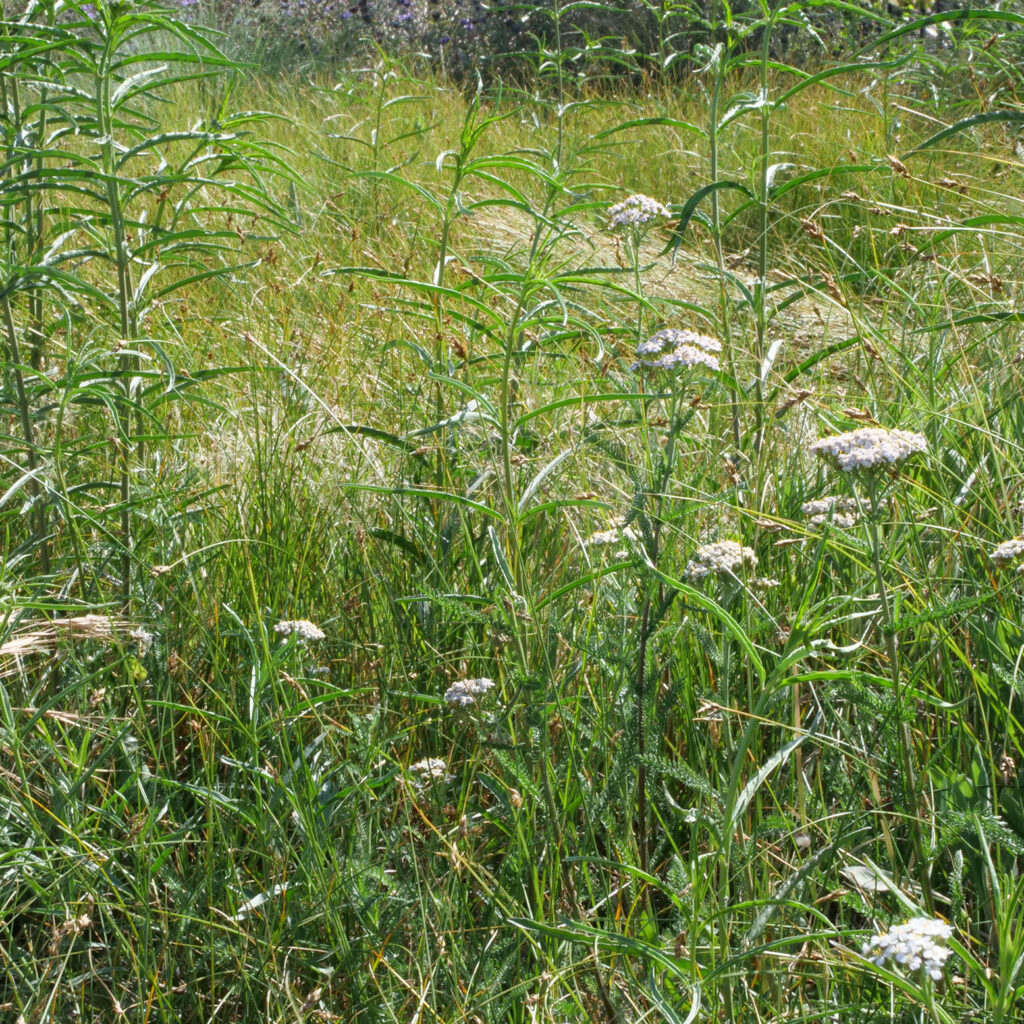 Shrubs or larger bunch grasses at the meadow's edge can provide a sense of privacy or enclosure. We recommend native plants that require little water but can tolerate being next to meadow areas, which will be watered more frequently than most other areas of a waterwise or native garden—though still much less than a lawn. A few of our favorites are hollyleaf cherry, fragrant pitcher sage, deergrass, toyon, and elderberry.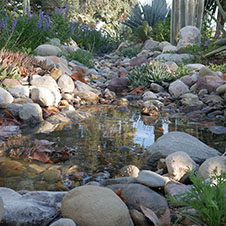 While not as water-efficient as most California native plants or waterwise landscape areas, waterwise meadows in full sun usually require a moderate amount of water delivered as a deep soak about once per week in the warm season, and sometimes half that often or less if shaded. They will still usually require no more than half the water a typical turf lawn needs to thrive and much less maintenance. This is why we recommend that meadows be used as smaller spaces for playing, relaxing, picnicking, and dogs, within larger native or low-water spaces.
Explore Meadow Gardens at our Demonstration Garden
Design Your Own Meadow Garden