Why Consider Succulents In Your Landscape?
Succulent plants, including aloes and agaves, can be either a visual element to contrast the flowering shrubs and smaller plants or the primary focus of the planting design in a waterwise landscape.
Using Succulents inYour Garden
Most succulent gardens in inland Southern California are watered deeply approximately every other week during the warm season. However, most of them can go longer between waterings, allowing them to be grouped with California native plants that prefer less frequent irrigation.
As long as you follow the principles of "Right Plant, Right Place", you can mix succulents with California native or Mediterranean plants to provide a sculptural accent, contrast, or focal point. Larger succulents, such as most agaves, might be used individually in this way, whereas smaller choices, such as aloe vera or blue elf aloe, are often most effectively used in groups of three or more, with multiple groups repeated throughout the garden to provide a greater visual impact.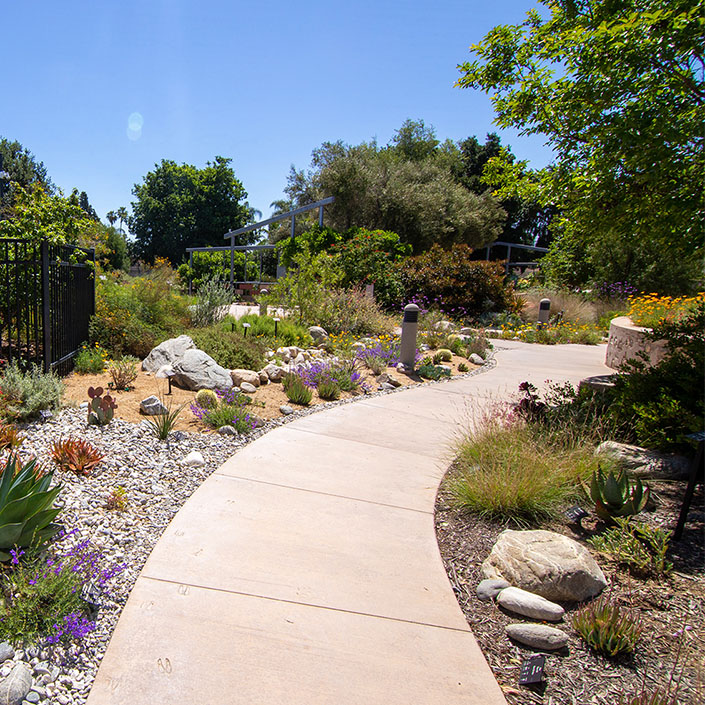 Most succulents commonly available in nurseries will thrive with good drainage (see Right Plant, Right Place section for details), the right amount of sun (either full or partial sun, so be sure to look up each plant's requirements), and an occasional deep watering (usually once per week the first year, then every two weeks or longer after that).
Some succulents are damaged by frost, so if you live in an area that commonly gets frost in the winter, be sure to look up whether the plant you are considering is "frost sensitive." If so, find an alternative.
Top Categories of Succulents for Home Gardens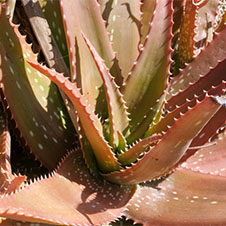 Aloes come from Africa and usually thrive in full sun or partial shade in our local gardens. After establishment, their annual winter or spring blooms are adored by hummingbirds, and many are easy to divide and replant.
Agaves primarily come from arid regions of the Americas. Most species have dramatic shapes and sharp spines, so be cautious with them. Research the full size of a mature agave before planting, and be sure to leave enough space for it. Agaves will flower only once, usually after many years, and will often die afterward, though smaller "pups" may remain and continue to grow, depending on the species.
Most cacti have no true leaves, and they gather sunlight from their green, fleshy stems. Almost all have sharp spines. As long as they get good drainage and are not overwatered, most cacti from local nurseries are easy to grow.
Dudleya, also known as "live-forevers," are small succulents, many of which are native to California. Most Dudleya grow best in partial shade, so they must be given shelter in the garden. They need very good drainage and are prone to rotting if overwatered. Dudleya are easiest to grow in pots or rock walls that sit in dappled shade, and they should be planted at an angle so water does not rest at the plant's base. Their beauty and blooms are adored by hummingbirds, which can make their fussiness worth it.
Explore Sculptural Succulent Gardens at our Demonstration Garden
Design Your Own Sculptural Succulent Garden